Nathan Wood
---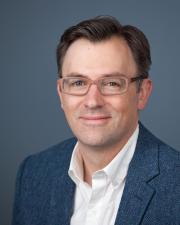 Rockers Family Honors Faculty Fellow, University Honors Program
Associate Professor, Department of History
Contact Info
Wescoe 3642
Tu 3:30–4 p.m.
Th 11 a.m. – 1 p.m
Zoom
W 9–10 a.m.

---
Biography
—
Dr. Nathan Wood earned his Ph. D from Indiana University in 2004.  Dr. Wood is fascinated by the East Central Europeans and the way they have grappled with the challenges and opportunities stemming from industrialization and urbanization, especially during the overlapping periods commonly known as "The Age of Great Cities" (c. 1840–1939) and "The Age of Speed" (c. 1885–1939). He published his first book, Becoming Metropolitan: Urban Selfhood and the Making of Modern Cracow in 2010, in which he explores press representations of the city in the early twentieth century, including attitudes toward urban expansion, electric streetcars, automobiles, airplanes, and big-city crime and filth. He is currently working on a new book project, "Backwardness and Rushing Forward: Cycling, Motoring, and Aviation during Poland's Age of Speed, 1885-1939." This project investigates the attitudes of early adapters, enthusiasts, journalists, the public, avant garde artists, and the nationalizing state toward bicycles, automobiles, and airplanes from their introduction until WWII. Dr. Wood is supported by several prestigious grants from Fulbright-Hays, Fulbright, the American Council of Learned Societies (ACLS), and the International Research Exchange (IREX).
In 2010, Dr. Wood was honored with a W.T. Kemper Award for Excellence in Teaching. He teaches graduate and undergraduate courses in modern European and eastern European history and frequently serves on the executive committee of the Center for Russian, East European, and Eurasian Studies (CREES) at KU.
Dr. Wood joined the Honors team as a faculty fellow in the spring semester of 2020.