Kyle Camarda
---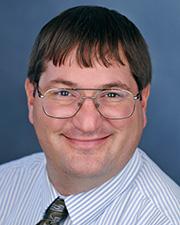 Honors Faculty Fellow, University Honors Program
Associate Professor, Department of Chemical & Petroleum Engineering
Contact Info
Nunemaker 218
M 10:30 a.m. – 5 p.m.

---
Biography
—
Dr. Kyle Camarda earned his Master's & Doctoral Degrees in Chemical Engineering at the University of Illinois at Urbana-Champaign.  Dr. Camarda's research focuses mainly on the use of high-performance computers to solve optimization problems in product design, process design and bioinformatics. In the search for new pharmaceuticals, polymers, or fuel additives, the traditional trial-and-error approach is being supplanted by a new technique which uses computers to suggest compounds which are promising before any synthesis or testing is performed. He is also interested in integrating chemical engineering tools, such as process simulators, within Access Grid technology to allow for multi-site, multi-user design research.
Dr. Camarda joined as an Honors Faculty Fellow in the Spring 2021 semester.