Kathryn Rhine
---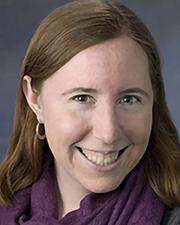 Honors Faculty Fellow, University Honors Program
Associate Professor, Departments of Geography & Atmospheric Sciences and African & African-American Studies
Biography
—
Kathryn Rhine, Ph.D., is an associate professor in the Department of Anthropology. She studies the relationship between culture and health in Nigeria. Her research has centered on topics such as women and the HIV epidemic in northern Nigeria, and trauma systems and bloodless medicine in southern Nigeria. Rhine is also a co-investigator with the humanities-based lab, CoILAB-oratives: Bridging Digital Health Divides in East Africa.
Rhine earned her B.A. with honors at George Washington University and her Ph.D. at Brown University. Since 2014, she has taught a first-year seminar on global medicine for Honors, and mentors the students who participate in her seminar.
Rhine believes mentoring should come from multiple sources including peers, and that the relationship is just as important for the mentor as it is for the mentee.
"Mentoring works best when both mentors and mentees are open to learning from one another," she said. "The more diverse your backgrounds and experiences, the better. This will challenge you to forge a relationship based on your shared humanness, rather than your résumés."