Honors students, faculty, and staff travel to Tanzania for Global Humanities Institute
---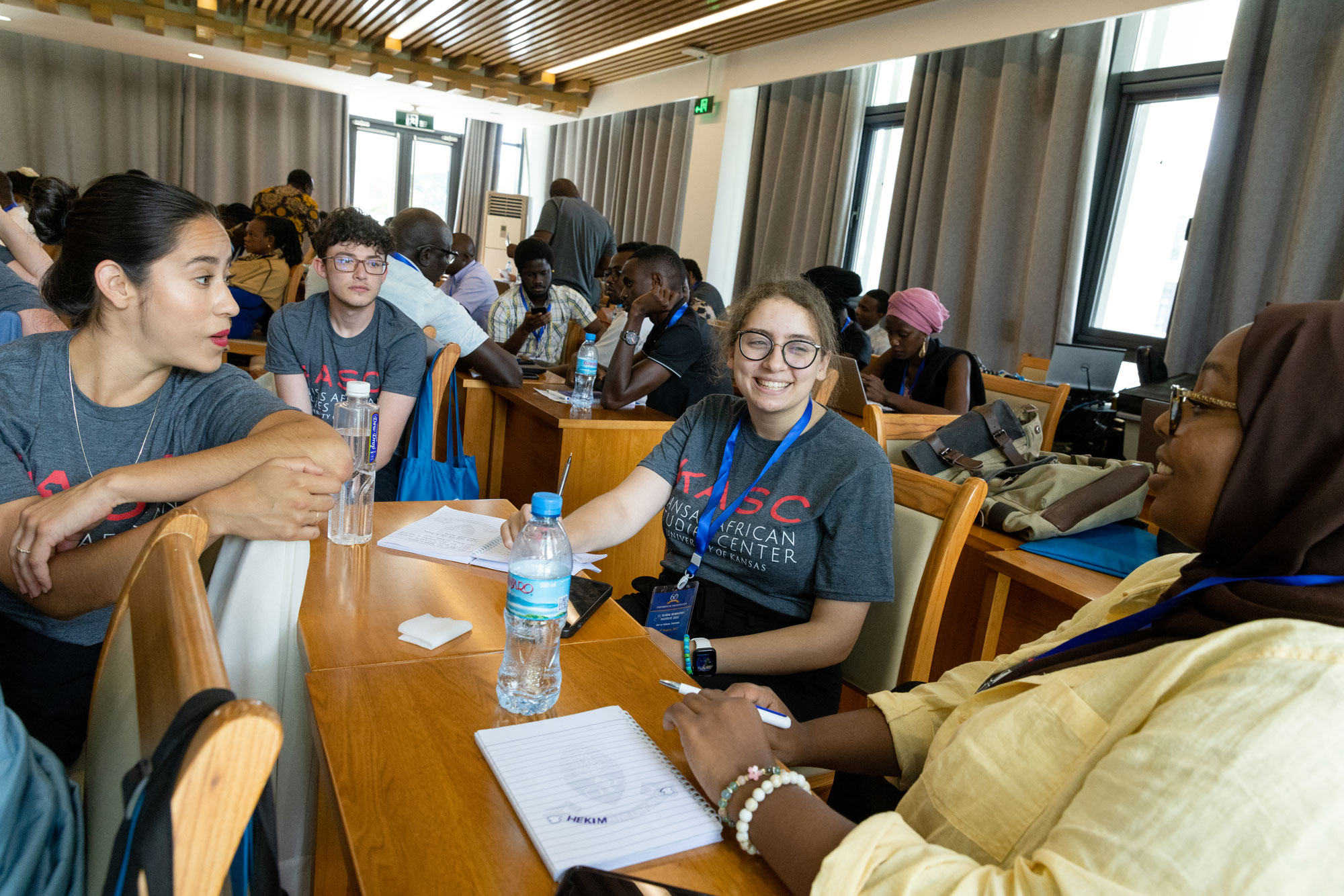 Photo by Meg Kumin.
Last summer, five honors students joined Honors Faculty Fellows Kathryn Rhine and Elizabeth MacGonagle, along with Program Director Sarah Crawford Parker, Student Experience Designer Mauricio Gómez Montoya, and Graduate Assistant Christopher McLamb, for the Global Humanities Institute in Tanzania.
The two-week conference, co-coordinated in part by Rhine and MacGonagle, convened early career scholars from Kansas, Brazil, Senegal, and Tanzania to explore topics of social suffering in Africa and the African diaspora. We asked our students to reflect on the GHI and what they've taken away from the experience.
How was it working with grad students?
Radhia Abdirahman, a 2022 graduate with degrees in human biology and global international studies and a concentration in African and African diasporic languages:Really fun. I've loved getting to bond with everyone and learn about their research from different perspectives. It's been especially great seeing scholars from around the world interact, explaining their research in ways that go beyond language barriers.
Lucy Whittington, a senior majoring in English:It was cool to meet the KU researchers and talk about their work outside of the context of KU. And meeting the students from outside of the U.S. was valuable. They're in my position academically, yet have a completely different perspective and way of approaching research.
What would you say to students who may be on the fence about research?
Fernanda Reyes, a 2022 graduate with a degree in Latin American studies and a focus on anthropology:Find a mentor. It's hard to be an undergrad and discover what your passion is and how to apply it to research. A mentor that you admire and respect can lead you to opportunities or others who share your interests.
Ethan Christ, a senior majoring in biochemistry and anthropology:Research is possible in any field, no matter what your major is. When I was a freshman biochemistry major, I went on the chemistry department page, looked up professors and their research areas, and just emailed them. They'll respond! Get involved, be bold, take initiative.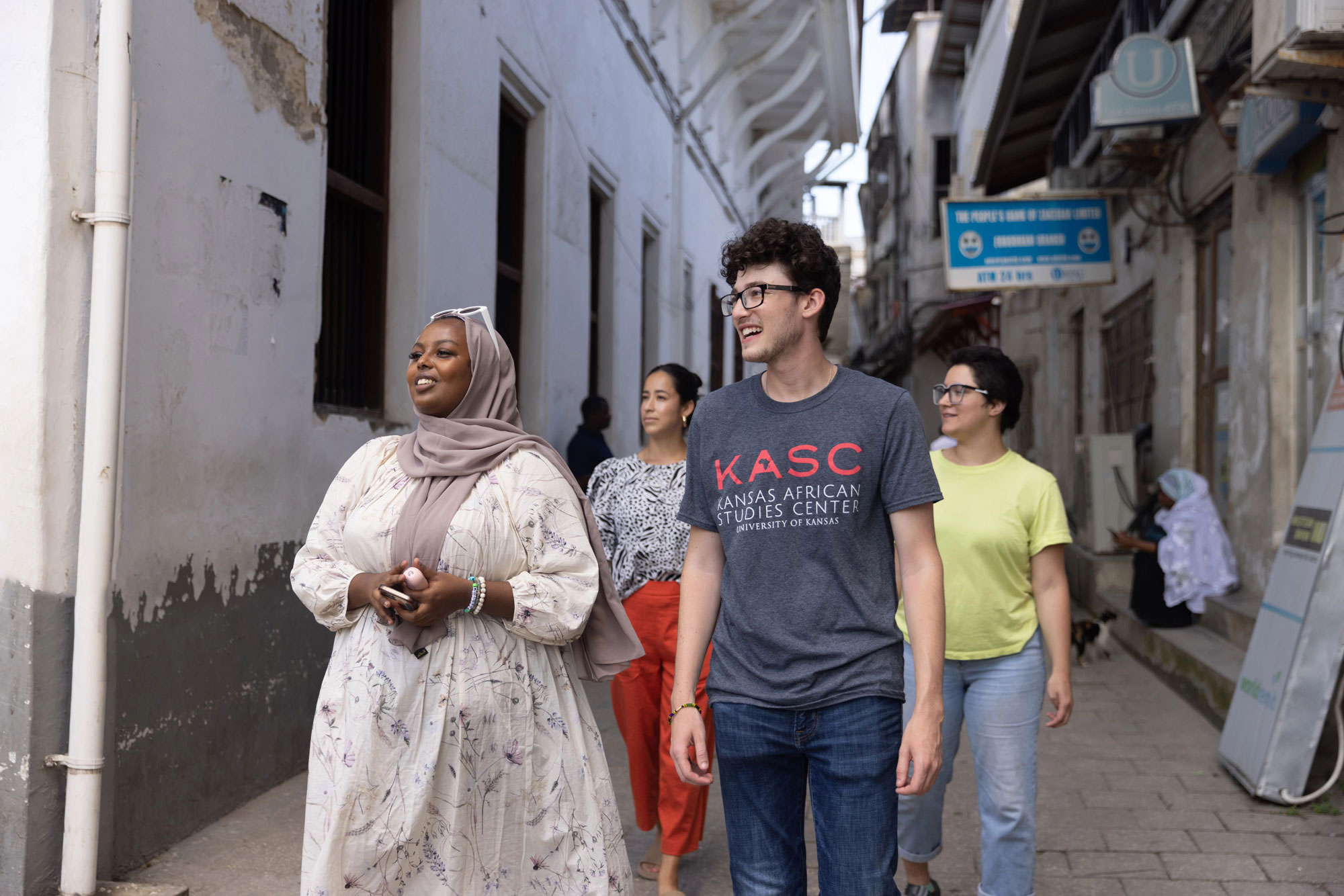 Photo by Meg Kumin.
What stands out from this experience?
Yasmin Edrees, a 2022 graduate with a degree in behavioral neuroscience and a concentration in Spanish:The trip taught me to say yes to opportunities. Coming into it, I was concerned that I wouldn't find people who had similar interests. The GHI taught me to take chances and pursue more international experiences.
LW: Tanzania forced me to leave my comfort zone. I've never really seen myself as an academic. So being in such an academic space was challenging for me in a good way. And hearing people speak passionately about their research inspired me to find something in my own work that I can be equally passionate about.
How has the University Honors Program set you up for success?
FR: The honors program is where I found my space at KU, and it's when I found advisors who really advocated for me. What I've enjoyed most is being able to build close, supportive relationships with people like Katie, Sarah Crawford-Parker, and Mauricio Gómez Montoya.
YE: Thanks to Dr. Katie Rhine's guidance, I applied for the Honors Opportunity Award, which covered a big chunk of this trip. That was awesome.
EC: The honors program opened so many doors for me — opportunities that I didn't even realize as a freshman. Early enrollment, advising, it's all great. At Honors, you're part of a community that's looking out for you.
RA: I was a transfer student, so I heard about Honors after I started at KU. I applied, got in, and served as a seminar assistant and honors ambassador. It's been such a great experience. The folks at Honors are amazing. They really want you to succeed. They've pushed me to do things that I didn't think I was capable of.