Committed KU alums find reason to give in relationships
---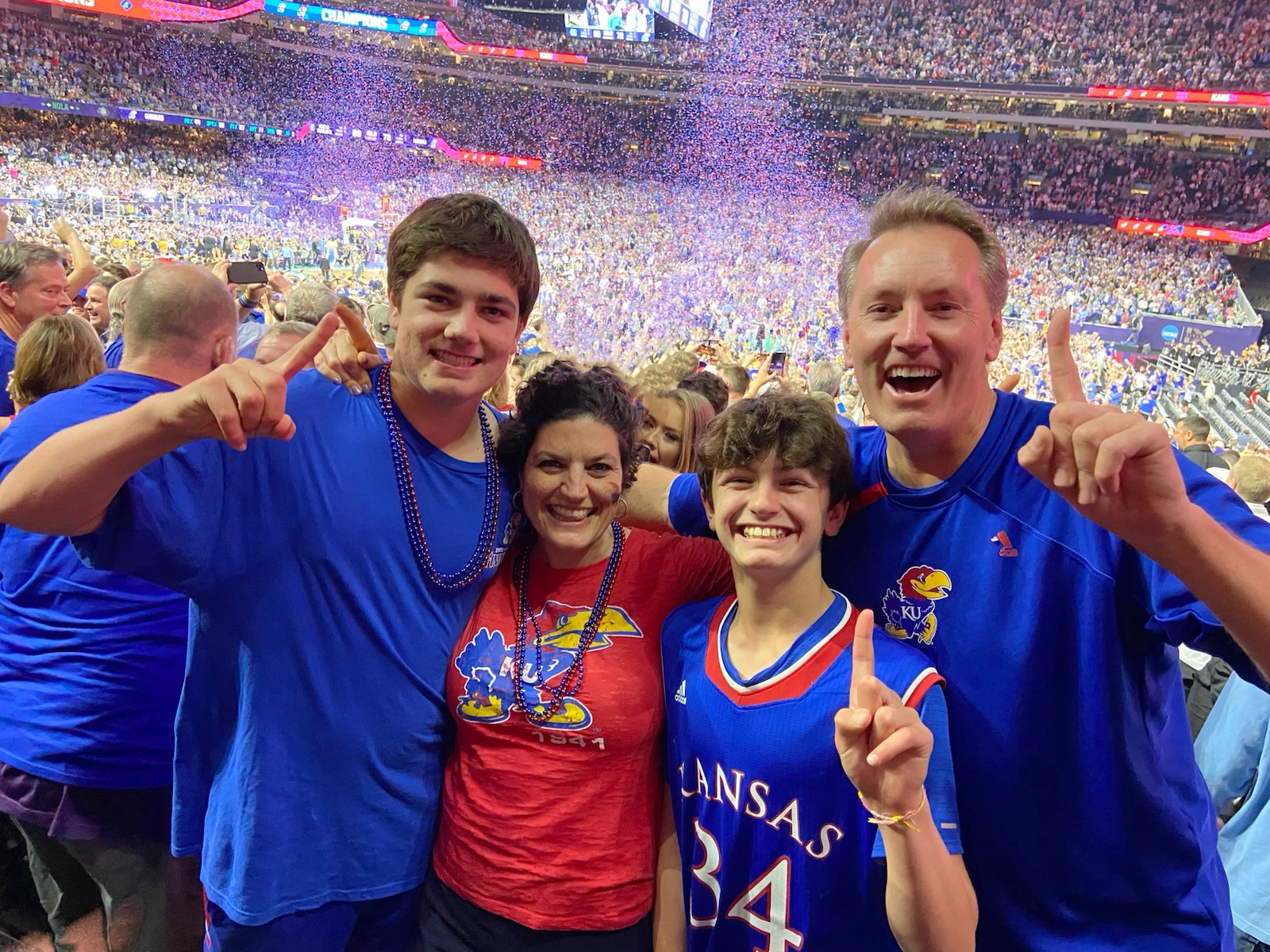 Maria (Abatjoglou) Stearns, c'99, and Alan Stearns, j'96, g'99, credit the University of Kansas for many things. High on that list? Their marriage.
"We have a lot of gratitude for the university, because Alan and I literally met in the middle of the country at Kansas," says Maria, a West Virginia native. (Alan hails from California, where both currently live with sons Cooper, Diego, and Holden.)
"If not for [KU], we would not have found each other," she says. "And it's just proven to keep giving back to us."
The two met through their involvement in KU's athletic department. As a scholarship varsity tennis player, Maria was named an NCAA Woman of the Year; Alan played for the golf team.
Their strong commitment to each other was matched by a deep dedication to KU. After finding success professionally — Alan in insurance, Maria as an attorney — the two became KU donors.
The impulse was natural, if not a little automatic at first. "We just started as donors who just put the check in the mail," says Maria. "Then it became something much more meaningful."
A richer relationship as donors developed when the two met with the team at KU Endowment Association. The couple was looking to create a greater connection with their giving. "We really wanted to make sure we donated to something that was actually going to impact the students," Alan says.
A member of the team suggested that their money would create impactful opportunities if directed toward the University Honors Program — of which neither Alan nor Maria are alumni.
"I was well aware of the honors program, but I was a student-athlete.  I didn't really feel like I could bite off honors and student-athlete at the same time," Maria says. But both she and Alan were convinced that the honors program could apply the couple's generosity to life-chaning experiences for students.
What resulted was the creation, and ultimately the endowment, of the Alan and Maria (Abatjoglou) Stearns Opportunity Fund. Awards from the fund support opportunities for students who demonstrate financial need, as well as for those from marginalized backgrounds.
Recipients of the fund have studied abroad in Paris, London, and Barcelona, sharing their experiences in letters they've sent to the Stearns.
"Some are pretty cool," says Alan. "I'm like, 'Wow, they did that?'"
Maria agrees that the messages from students make the power of their contributions clear. "The students have been extremely appreciative, and it's just opened their eyes to stuff they wouldn't otherwise have an opportunity to do," she says.
The Stearns' advice to donors is to go beyond the obligatory and give with intention — and connection. "Find something that makes it personal," says Alan, "because then it changes what you're doing."